Mike Mann,
Award Winning Custom Knife Maker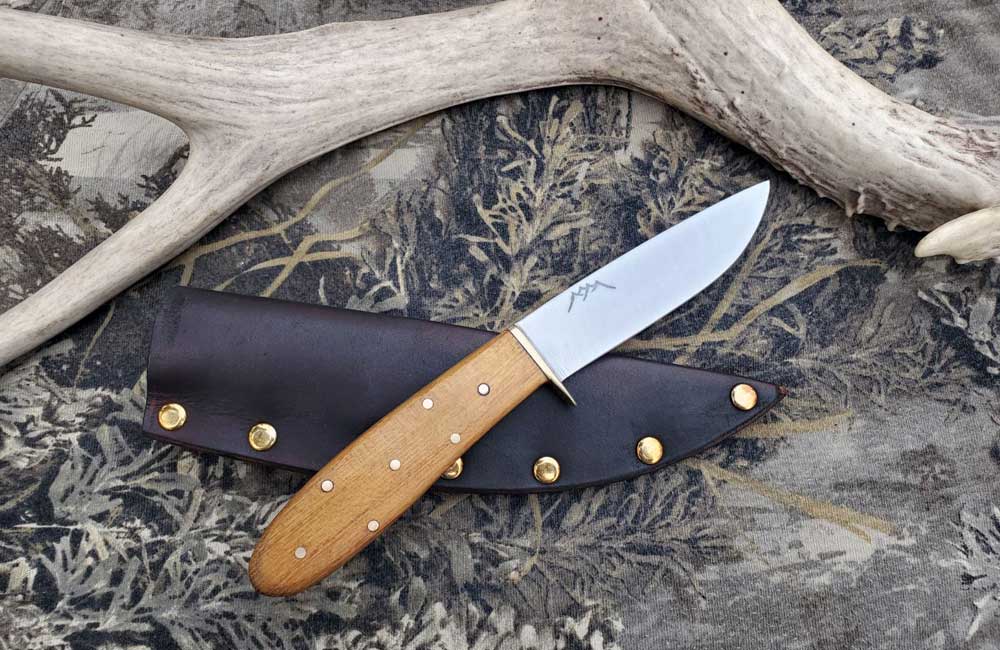 Mike Mann made his first knife - 1965 High School Shop class in Illinois where he grew up hunting and fishing with his brothers on The Family Farm that was homesteaded in 1869. His passion for making knives as a hobby gradually developed into a full time business. In 1989 he started Idaho Knife Works with his wife Debbie at their mountain home in North Idaho. They have worked to present beautiful knives destined to become family heirlooms! After 32 years making knives Professionally, Mike is still making Knife Works knives. Over the years, they've been Blessed to have met wonderful people as an exhibitor at many Gun, Knife, Craft + Outdoor Rec Shows. Also at Mountain Man Rendezvous, Cowboy Shoots and through the internet. Many have even become friends! Mike loves what he does so if you have any knife questions, please call 509-994-9394 PST. We would enjoy hearing from folks!
Mike Mann has won Best Primitive Knife Award several times at Professional Knifemaker Shows in Denver,CO. His work has been featured in several magazines, Tactical Knives(Steven Dick), The Backwoodsman (Dan Shechtman), Blade, Knives Illustrated, Guns of the Old West, Muzzle Blast Magazine, Cowboy Chronicle, Knife World (Steve Garger), several books by Cliff Jacobson along with other publications. In 1997 Mike co-colobrated with famed outdoor writer & wilderness canoe guide, Cliff Jacobson and 'The Cliff Knife' was born which branched out into several other models – The Cliff Canoe Knife, The Cliff Hunter Knife, The Lady Cliff & The Baby Cliff. In 2014 he also made 3 Hudson Bay Knives, a San Francisco Bowie and Nessmuk Knife for a movie called The Revenant with Leonardo DiCaprio & Tom Hardy which was released in early 2015.
Mike Mann's 'Line Up' started out with modern style Hunting Knives including a model with Gut Hook. He also built Hand Axes. From sawmill bandsaw steel, he made Fishing + Kitchen Knives. Mike also designed and built for his 'Line Up' - The Hunter Companion, Buck Skinner, Woodsman Knife, Large Survival Knife and LFK(Light Field Knife). He has built Reproduction Mountain Man & Cowboy Era Knives including a Bowie he named 'Doc Togden'. Mike has made MANY Customer Custom Knife Orders along with 'Line Up' knives during his 32 years as a Full Time Professional Knifemaker. His years of experience as an outdoorsman & appreciation of our historical past has guided his artistic expression in the good working knives he has built!
Mike Mann has forged high carbon 5160 spring steel to build a tough, durable tool. Other high carbon steels used, 1080 + 15N20. The benefit of high carbon steel is it holds an edge and sharpens easy. Forged steel for larger blades and stock removal for smaller blades. A flat grind on all blades that are edge hardened and tempered for use! He has made both full and hidden tang handles with various handle materials. He's also built many sturdy leather sheaths!
---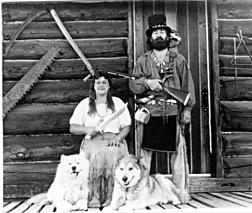 Mike Mann (aka Padre) & Debbie (aka Coyote Woman) married in 1983 on a remote mountain in North Idaho. Then they built an independent powered log home with workshop where they lived and worked for 35years! They are now located in Idaho's Silver Valley. We've been so Blessed to meet the truly special folks who have come into our life through the years… THANKS & please keep in touch!