Mike Mann,
Award Winning Custom Knife Maker
The Cliff Knife & Fishing Knives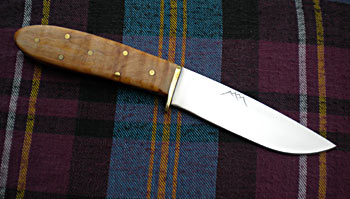 This is the original - not a copy!
The Cliff Knife, designed by canoe guide/author Cliff Jacobson. The blade is 4 1/4" flat ground, high carbon steel with full tang 4 1/4" handle. Various woods available, please see Special Order Page for list. Also special "rescued wood" (100+ years old) osage orange wood from Mann Family Farm in Illinois or Maple from Lake Superior. Why use rescued wood? More stable, tighter grain, less likely to warp or crack, a beautiful piece of history!
The Cliff Canoe Knife 15N20 sawmill bandsaw steel blade is approximately 3/32" thick-starts at $205. Your choice of handle material @ various prices. Sturdy leather sheath is included.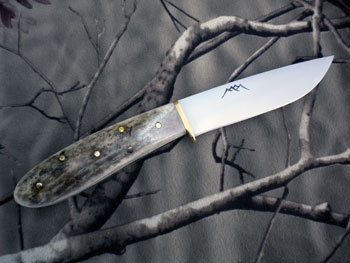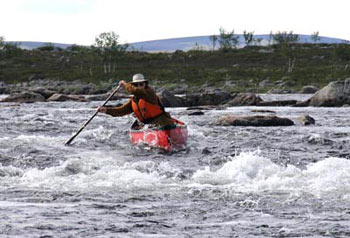 Cliff Jacobson paddles the Poreno River, Norway
June 2011
The Cliff Hunter Knife has 1/8"+ thick high carbon steel blade for heavier use and start at $240. Your choice of handle material @ various prices. Sturdy leather sheath is included.
Would you believe that four of us had one of your Cliff knives?
Hello, Mike:
I hope all is well on the mountain and you're becoming fit and sassy again. Just got back from a Piragis Northwoods Co. canoe trip in the BWCA. Would you believe that four of us had one of your Cliff knives? Here are a couple photos of them. Mine is the one on the right.
Hugs to you and Deb.
Cliff
Comments on the Cliff Knife & Fishing Knives
On Oct 15, 2013
Mike,
Just a short note to say what a great knife you make. I purchased a cliff knife from you 3 years ago. I 'm a farmer and use it everyday to cut twine on rounds bales to slicing open feed bags. It is light to carry, easy to sharpen (love the flat grind blade) and durable!! Also skins a muskrat, coon or coyote in a flash. Like I said, I've had it 3 years and it never has had a day off. I waited this long to pass judgment on it, cause I wanted to make sure it stood up to some use, IT DOES!! Nice sheath too! Doubt I will ever need another one. But if I do, you will be the guy I call!!!
Thanks for making a great product!!
Sincerely,
Bill Peterson
"The most practical and beautiful knife in my arsenal, this knife begs to be touched and used!" says Cliff Jacobson March '97 issue Tactical Knives Magazine article "Mountain Man's Masterpiece."
"Perfect knife to handle camp chores...a tool that I wouldn't hesitate to depend on in the wilds." Steven Dick, Editor and Chief, Tactical Knives, July '99.
"Mike's knife preformed as I hoped it would...The Cliff Knife took a beating," says Dan Shechtman Jan/Feb 2000 issue Backwoodsman Magazine article"The True All-Purpose Bush Knife"
Cliff Jacobson discusses IKW Blades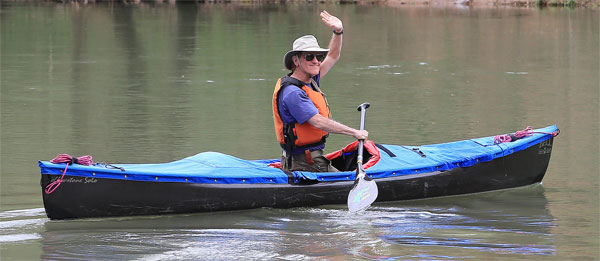 Cliff Jacobson: Writer/Consultant
Member Outdoor Writers Assn. of America
American Canoe Assn. Legends of Paddling Award
Distinguished Eagle Scout
Web-site: Visit Cliff Jacobson
////////////////////////////// \\\\\\\\\\\\\\\\\\\\\\\\\\\\\\
Light Field Knife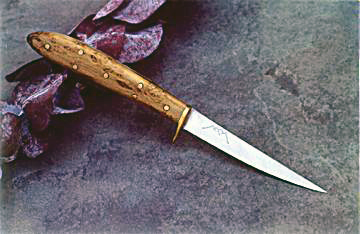 The Light Field Knife (L.F.K.) has a 4 3/4" blade - $140. Works well as a boning knife, field dress small game and kitchen camp chores! Made of 15N20 high carbon tool steel (saw mill band saw steel) that is 3/32" thick and tapered to the tip. The blade is stiffer than a fishing knife. The full tang, tear drop handle can be special ordered in wood or antler slabs (price varies by choice) and is extremely comfortable in hand while in use! It comes with brass guard and pins. A sturdy, tight fit leather sheath completes this knife.
Idaho Knife Works L.F.K. is just one in a line of highly practical outdoor knives they are well known for.
Steven Dick,
Editor-in-Chief May 07 Tactical Knives Magazine
---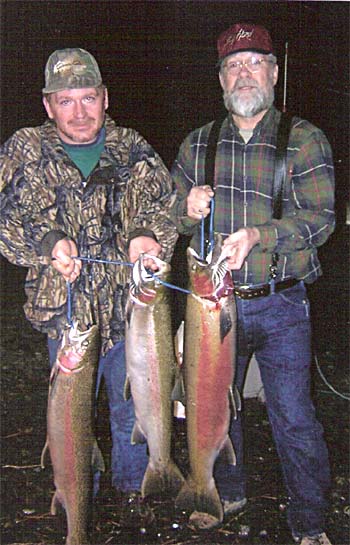 Mike & Michael-Steelhead Fish-March 2009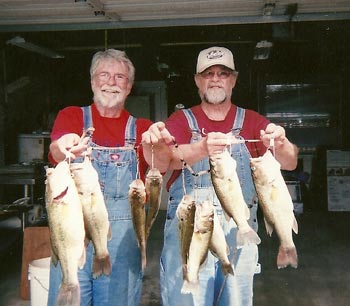 Brother Charlie & Mike (Mick) Fishing in Illinois May 2010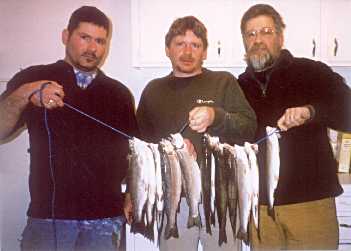 Mike and sons fishing
see our cousin's tackle business at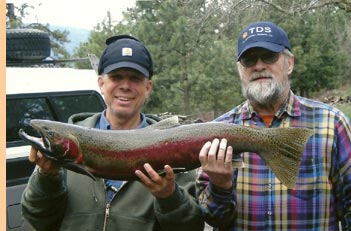 Mike (Magwa) & Mike (Padre) Steelhead Fish-Orofino, ID March 2010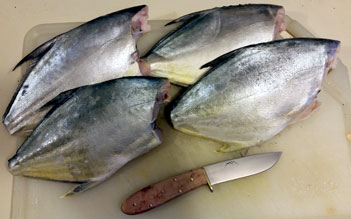 Report From the Field
Pompano to filet with the Cliff Knife